Supposed Apple iPhone 5C cases already up for pre-order
14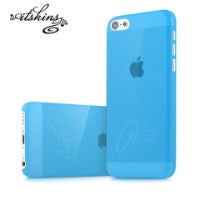 Apple hasn't announced the iPhone 5C or even confirmed that it does exist (although we have plenty of leaks to suggest it does), but that isn't stopping one online retailer from putting up iPhone 5C cases for sale. Not surprisingly, the cases are listed for pre-order, and they give absolutely no idea of when the cases will ship. This makes sense, because there is no way a manufacturer could have made cases for a device with unknown dimensions.
The cases are designed to be thin and lightweight. And interestingly, the cases are also designed to make your iPhone 5C look a bit more like an iPhone 5/5S with the two-tone back plate. The leaks we've seen of the
iPhone 5C
give it a solid coloring like the old iPhone 3G/3Gs, but the case gives adds in the color changes on the top and bottom.
The case will run you $23, but given that this case won't be manufactured and shipped until the dimensions of the iPhone 5C are official, you may want to just hold off and see what other cases become available.