Super-luxury phone maker Vertu shuts down unable to pay its bills
17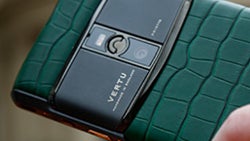 A couple of weeks ago,
controversy stirred
around UK-based
luxury smartphone
maker Vertu and its transfer of ownership. Its old owner — Hong Kong hedge fund manager Gary Chen — claimed that he still hasn't received the £50 million ($61 million) he was supposed to get for selling the company to businessman Hakan Uzan
back in March
. The latter, on the other hand, claimed that his plans to invest £1.9 million ($2.46 million) in the business and get it back on its feet crumbled when he found out that Vertu has £128 million ($165.5 million) in unpaid bills, salaries, and debts. Ouch! Both sides threatened to sue each other and the fate of about 200 workers was hanging in the balance.
Now, the inevitable has happened and Vertu has gone into liquidation, the 200 employes now left jobless. It is not known if the company managed to pay its bills, but an external spokesman for the firm said they aren't being paid anymore, so it's possible that at least some salaries have been left hanging. Our own attempts to get in touch with Vertu's PR representatives have gone fruitless, as their emails have been inactive for the past few weeks.
Owner Hakan Uzan will retain the brand, technology, and licenses, but we don't see Vertu popping up for a resurrection run anytime soon. The company tried to sell super-premium handsets and unbelievable prices, but was essentially beat at its own game by
3rd party jewelers
who make gold- and jewel-plated iPhones and Galaxies — phones that have the expensive look and heavy recognizability to boot.
And that makes sense. For the super-premium brand Vertu wanted to be, it was quite light on marketing. If you drop
$10k on a handset
, you'd like for others to know that when they see it on your coffee table, right?