Subscription apps like Netflix or Spotify net billions in App Store and Google Play revenue increase
9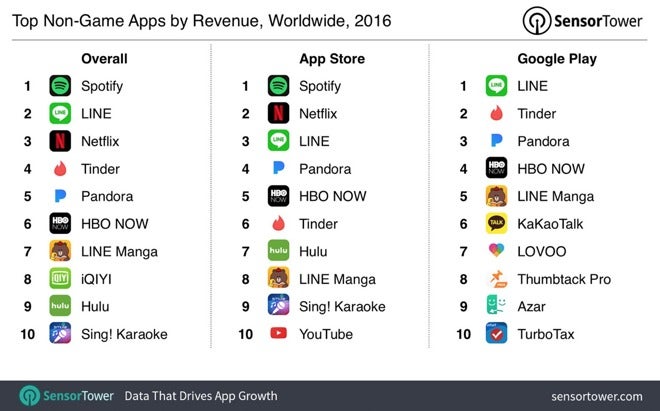 Back in the Q4 2015, the App Store netted $3.4 billion in revenue from non-gaming apps, while Google Play made out with $1.8 billion. Fast forward a year, and there is now a whopping 67% increase in App Store revenue for Apple, to the tune of $5.4 billion made from non-gaming apps alone in Q4 2016. Google's revenue growth year-on-year is even more spectacular on a percentage basis - 82% to $3.3 billion.
What's behind that unprecedented increase in non-gaming revenues for the two most popular application stores? Well, the giant increase in music and video streaming subscriptions, of course. Both Spotify and Netflix are increasing their user bases significantly by using the App Store and Google Play as subscription vehicles, and that is why they are easily digesting Apple and Google's 30% (or 15% if you hold the subscription for a year) cut from the fee pie. Back in December, after it announced offline downloads for select shows and movies,
Netflix became the top-grossing iOS app
, as a harbinger of things to come.
Thus, those two media streamers currently occupy the top spots as App Store revenue generators outside of the gaming universe, followed by other subscription services like Pandora, HBO NOW, Tinder or Hulu. The Play Store differs somewhat, as Spotify is missing from the top ten there, but Pandora, Tinder and HBO NOW are still in the top five. Love it or leave it, this symbiosis proves to be a win-win-win scenario for all three parties involved - the subscription services like the unprecedented exposure they get on iPhones and Androids, the users love the subbing simplicity, while the app stores are laughing all the way to the bank.