Study shows that it costs $1.36 to charge an Apple iPad over the course of a year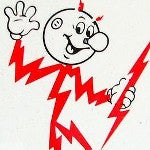 According to research conducted by the non-profit R&D group,
Electric Power Research Institute
, the cost over a year to charge your Apple iPad
is a measly $1.36
. In comparison,
a 60-watt compact fluorescent bulb costs $1.61 in electricity costs over a year, a desktop PC will add $28.21 to your electricity bill, and a refrigerator runs you $65.72 to run over 12 months.
The study was conducted by the EPRI to see how much power some of the popular new devices are consuming.
annual output of a small power plant running at full strength
. But some of that electricity could be available because iPads that are being used in lieu of a desktop computer use one-fifth the power consumption of a PC. The latter requires 20 times as much power annually as an Apple iPad. All of this is leading EPRI researcher
Baskar Vairmohan,
to study whether the explosion of tablet use from practically zero to today's high numbers will reduce power consumption by replacing devices that require much more energy to run, or add to power consumption.
Consumer energy demand is on a pace that would be the third straight year of decline thanks to more efficient air conditioners, light bulbs and other appliances. Refrigerators use only a quarter of the power that the last generation models required.
For the test, the EPRI assumed that the average Apple iPad user would
recharge his tablet every other day
. The device used
11.86 kilowatt-hours of electricity. over the year at a cost of 11.49 cents per kilowatt-hour. Amazingly enough, there is a device that only costs 38 cents to recharge for an entire year-the Apple iPhone 4.
source:
AP