Apple, Xiaomi vie for supremacy in the wearable band market during Q1
16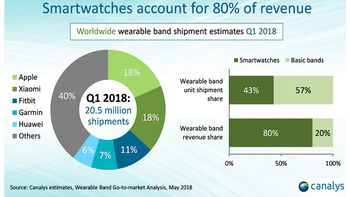 It's a horse race at the top of the wearable bands market as Apple and Xiaomi go neck-and-neck. While both firms are competing for the top market share, the wearable band devices that both sell don't compete. It's not even close, really. The Apple Watch is a full function smartwatch and the latest model offers LTE connectivity.
Xiaomi's Mi Band 2
(number 3 is expected to be unveiled at the end of this month) is a cheap fitness tracker priced at $20. The latter features an OLED screen that tells time, tracks your heart rate and counts your steps.
According to researcher Canalys, for the first quarter of 2018, Apple shipped 3.8 million Apple Watches. That beat out the 3.7 million Mi Bands that were delivered by Xiaomi in the period. On a year-over-year basis, Apple Watch shipments were flat; sequentially, shipments were lower due to the record number of timepieces that Apple delivered in the holiday-driven fourth quarter of 2017. Both Apple and Xiaomi claimed 18% of the wearables band market in the first quarter. Fitbit was third with 11%, followed by Garmin and Huawei with 7% and 6% of the market, respectively.
Canalys says that the Apple Watch Series 3 with cellular connectivity is driving sales of the product. Canalys Senior Analyst Jason Low notes that carriers are not only getting paid for selling the device, they benefit from the recurring revenue stream for data. Research analyst Vincent Thielke adds that Garmin has become the second largest smartwatch vendor after Apple, shipping 1 million units in the period. And Fitbit's two smartwaches (the Blaze and the new Versa) made up an estimated 24% of its Q1 deliveries, according to Thielke.
"Key to Apple's success with its latest Apple Watch Series 3 is the number of LTE-enabled watches it has been able to push into the hands of consumers. Operators welcome the additional revenue from device sales and the added subscription revenue for data on the Apple Watch, and the list of operators that sell the LTE Apple Watch worldwide is increasing each month. While the Apple ecosystem has a strong LTE watch offering, the lack of a similar product in the Android ecosystem is glaring. If Google decides to pursue the opportunity with a rumored Pixel Watch, it would jump-start much needed competition in this space."-Jason Low, Senior Analyst, Canalys
The difference in pricing between smartwatches and basic bands can be seen in some of Canalys' numbers. The research firm says that smartwatches made up just 43% of wearable band units shipped in the first quarter, but was responsible for 80% of the revenue brought in.