Street Bump reports potholes with your accelerometer
3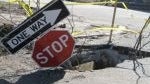 Every year, thousands of potholes are discovered and repaired in major cities around the world. Particularly after the winter ice thaws, cities are left booby-trapped with dangerous potholes. In an effort to more efficiently locate these potholes, the city of Boston, MA is looking to a smartphone-based solution, called Street Bump.
Street Bump will be an app that uses both your device's accelerometer and
GPS
. It works by detecting the sudden, jarring motion of your car running over a pothole. It then uses your GPS signal to send a message to the city with the exact location of the disturbance.
According to Boston's Department of Public Works, 1 in 6 potholes are discovered by way of a citizen's report. Those reports currently come by way of email, or Citizens Connect, a program that allows citizens to post pictures, locations, and descriptions of current problems.
Of course, those citizen reports typically come after the pothole has become a major hazard. With Street Bump, the potholes could be detected and repaired before they became large enough to destroy a car's axle or suspension.
Does anyone else find it delightfully ironic that our smartphones might actually make
driving
safer?
source:
The Boston Globe
via
Engadget