Cellphone using drivers cause 182 accidents in New Zealand; Virginia seeks cellphone ban by drivers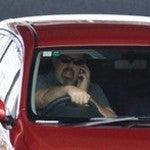 Despite a ban in New Zealand that is supposed to prevent drivers from holding onto cellphones while driving a vehicle, 182 crashes in 2010 were caused by drivers going against the ban. As a result, there were 5 deaths caused by cellphone using drivers last year, and dozens of injuries. These accidents took place from November 1, 2009 when the ban on using a cellphone in a car was started-through December 8th of 2010.
The grim statistics tallied 5 dead, 12 serious injuries and 46 minor injuries. Despite the large number, it was a drop from the 254 crashes seen the prior year before the cellphone ban. There were also 5 fatal accidents during that year. Amazingly, less than a month after the ban became law, 2 people were killed in cellphone related crashes. After the first 5 months, more than 3,000 drivers were fined $80 each for driving while using a cellphone.
In a related story, the Virginia General Assembly is trying to pass a law that would prevent the usage of cellphones while driving, even if the phone is connected to hands-free equipment. Delegate Vivian Watts has proposed HB1630. So far, the bill has been voted on by voice and the result was a recommendation that no action be taken on the measure.
Under current state law, a driver cannot read or write text messages while behind the wheel. First offense is a $20 ticket, rising to $50 for any future violations. Delegate Watt says that driving while using a cellphone has been shown in research to be similar to driving drunk as it "impairs your focus," according to the lawmaker.
source:
NewZealandHerald
,
DelmarvaNow