Steve Wozniak reacts to Steve Jobs resignation: "the greatest tech leader in our lifetime"
9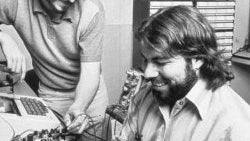 Steve Wozniak has been the second Steve in Apple since the company's first days as both Wozniak and Jobs founded Apple in the dark days of 1976. Wozniak was the brain and main driving force behind the development of Apple I and II computers and professionally he's probably one of the best insiders on Steve Jobs. The Woz, as he's often referred to, was the second wizard in the land of Apple until he quit his full-time job at the company nearly 25 years ago, but it was Jobs with his brutally effective management who became the face of Macs, the iPhone and the iPad.
That might be the exact reason why, shortly after
Jobs announced his resignation,
Bloomberg interviewed the Woz about his view of the future of Apple, his thoughts on the company's policy and its iconic now ex-CEO. Wozniak summarized Jobs career and persona as
"the greatest technical leader we've ever seen in our lifetime."
His evaluation coincides with that of MarketWatch, which named Apple's ex-chief executive the
CEO of the decade
, and even Barack Obama credited Jobs for being a
symbol of the American Dream
.
But despite having such a charismatic and influential leader, the company behind the iPhone and iPad wouldn't change overnight:
"He's probably going to be remembered for the next 100 years as the best business leader of our time. He will watch the company for a while, hope its on such a good track.




For a company as large as Apple, corporate culture doesn't change overnight. The quality of the people doesn't change."
The Woz also spoke about the early days of Apple describing Jobs as a visionary who wanted to do things, pairing well with Wozniak's desire to build things. But while he knows Jobs professionally now he only speaks to him occasionally, so he couldn't comment on either his health or reasons for quitting: "I'm not close enough to him now to tell you what his reasons were for resigning," he said.
"He's been behind the iPhone,"
Wozniak added.
"My God. That's the device of our lifetime."
That summarizes it well enough, doesn't it? Check out the full interview below.
source: Bloomberg