Steve Jobs's biological father regrets never meeting his son, Chinese workers unimpressed with the resignation
49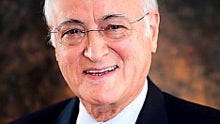 The biological father of Steve Jobs, who is of Syrian descent, is now in regrets he had never met his uber-successful son, and only emailing him from time to time for his birthdays.
Apple's former CEO was given for adoption as his mother's family was against her having a kid from Abdulfattah John Jandali, who, at 80 years of age, is now a VP of one casino in Nevada, workaholic as his son. The granddad passed away shortly after Steve Jobs was adopted, and his biological parents reunited, but there wasn't much they could do about rolling the adoption back.
"
I'd be lying if I said it doesn't sadden me to have not been part of my son's incredible journey. What father wouldn't think that? And I would think that even if he was not the head of a hugely successful company
", says Mr Jandali. "
Now I just live in hope that, before it is too late, he will reach out to me, because even to have just one coffee with him just once would make me a very happy man
".
On the other end of the globe, however, Chinese workers who were
treated to poisonous compounds while assembling screens for Apple's gadgets
, are unimpressed with Steve Jobs's resignation and health issues. Jia Jingchuan, an assemblyman in his twenties, has
written personal messages to Steve Jobs this year
, and didn't get any response. "
Steve Jobs was indifferent to our poisoning and evaded his responsibility. There should be policies to protect the poisoned workers and pay the health expenditures for the victims,
" he'd said in a statement released by the Hong Kong labor group Students and Scholars Against Corporate Misbehavior (SACOM).
The group has called on
the new CEO Tim Cook
to address the problem: "
The massive poisoning at Wintek is a serious breach of the labor law and Apple's code of conduct. Corporate social responsibility is no more than rhetoric if there is no remedy to the workers for the code infringement. SACOM demands Apple under the leadership of Tim Cook has dialogue with the workers as soon as possible
."
Most workers affected, however, have already left, and the rest don't keep their hopes high something will change after
the resignation
. Wan Qiuying, who was also poisoned at Wintek, had said "
Jobs retiring doesn't have much to do with our case. Nothing happened then, now time has passed, we didn't have expectations
". All these grumblings, however, are probably
the last thing on the mind of Steve Jobs right now
.
via
NYP
&
GlobalPost