Chinese workers send a letter to Steve Jobs, claim their health is compromised for profits
33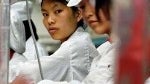 A letter meant for Steve Jobs, and signed by five workers that claim to represent the employees at Wintek's Suzhou factory, which is producing displays for Apple, is appealing to the Cupertino-based company's CEO to ensure that Apple will take care of health issues experienced by the factory workers.
A part of their letter reads:
"From when hexyl hydride was used, monthly profits at Apple and Wintek have gone up by tens of millions every month, the accumulated outcome of workers' lives and health."
Wintek claims it used hexyl hydride, also called n-hexane, from May 2008 to August 2009, but stopped when it realized that the chemical is making its employees ill.
However, some of these employees are claiming that the amount of compensations they received for their health problems is insufficient; that they were pressured to quit their job after receiving compensations; and that they didn't receive any assurances that Wintek will cover their medical bills if these workers suffer more n-hexane-related problems.
Guo Ruiqiang, a worker at the Wintek plant, says:
"We are unable to cope with the medical costs of treatment in the future. We can only stay in the factory and see what happens. We just feel very helpless now."
According to him and other workers, n-hexane poisoning caused them "sweaty hands and feet, sudden numbness in hands, swelling and pain in the feet, tiredness and faintness." Lam Ching-wan, a chemical pathologist at the University of Hong Kong, says that when a person is exposed to this chemical on a daily basis, this may lead to "long-term and possibly irreversible nerve damage".
This is not the first time we hear of such reports. Only a month ago we told you that Chinese groups are expressing
concerns about the working conditions
in factories assembling Apple products, stating:
"[Apple] only care about the price and quality (of their products) and not the environmental and social responsibility issues. In some ways they drive the suppliers to cut corners to win their contracts."
Moreover, Foxconn, another manufacturer producing Apple devices, has been accused of
mistreating its employees
- reportedly, "up to 50% of Foxconn employees are abused either physically, verbally, or financially".
source:
Reuters