iPhone factory workers poisoned by noxious gases...again
3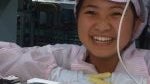 Factory workers in an
Apple
factory in Southern China have been poisoned for the second time this year. The workers claim that their exposure to n-hexane has left them with numbness and physical pain that leaves them unable to walk.
The n-hexane chemical is used to polish the Apple logos, and glue them onto the devices. One of the employees explained the dangers of n-hexane: "I think they knew it was poisonous to human bodies but if they had used another chemical our output would not have increased." Another worker told ABC that "At first the symptoms were pretty obvious. My hands were numb. I could hardly walk or run."
The supervisor of Wintek, the factory in question, was unavailable for comment. Apple didn't confirm that the products were indeed theirs, but they reiterated that they've tightened safety standards at their suppliers. While Apple may have suggested tighter regulations, their suppliers seem to have forgone caution in favor of faster/cheaper production.
Wintek employs 20,000 workers, who mainly produce the touchscreens featured on the iPhone. Wintek has admitted that 60 workers have been hospitalized following exposure. Wintek has paid their bills, and removed the n-hexane gas from their production methods.
Apple is still recovering from scandal regarding
Foxconn
, their other major supplier. While they certainly can't be responsible for every failure of their suppliers, this trend in dangerous cost-cutting measures seems to indicate a lack of enforcement in labor standards. We aren't naive enough to say that less-than-ideal conditions are something new, but we should hold Apple responsible for at least minimum safety standards.
source:
ABC News Australia
via
Gizmodo
Recommended Stories