"Steve Jobs" screenwriter Aaron Sorkin responds to negative comments from Apple CEO Tim Cook
46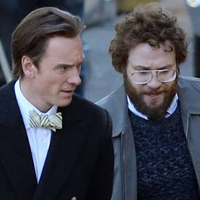 Aaron Sorkin, who penned
the "Steve Jobs" biopic that opens in the U.S. on October 9th
, is in the midst of a feud with Jobs' replacement, Tim Cook. On Stephen Colbert's Late Show the other day, Cook said that he wasn't fond of the new movie. In fact, he said that he wasn't happy with any of the movies made about Jobs. And while he admitted that he hadn't seen any of the films about his former boss, Cook called those involved with them "
opportunists,
" a label that certainly pissed off Sorkin.
The writer, who previously had a huge hit with "The Social Network," said that those involved in "Steve Jobs" took pay cuts to get the movie done. "
Nobody did this movie to get rich
," Sorkin said. "
Secondly, Tim Cook should really see the movie before he decides what it is
." But the writer left the biggest zinger for last. "
Third, if you've got a factory full of children in China assembling phones for 17 cents an hour, you've got a lot of nerve calling someone else opportunistic
."
Those who have seen previews of "Steve Jobs"
have given it good reviews
. The film starts Michael Fassbender as Steve Jobs, and Seth Rogen as Steve Wozniak. As we've pointed out before, part of the problem with this movie, and the one that starred Ashton Kutcher as Steve Jobs, is that neither film touches on the era in Jobs' life that includes the iPhone and iPad. Those are the products that most people think of when they hear the name Steve Jobs.
Still, the early buzz is that the movie will be an Oscar contender.
source:
TheHollywoodReporter
via
CNET