Trailer for new Jobs movie released; "Steve Jobs" hits theaters October 9th
27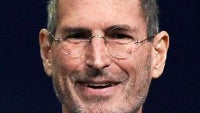 The Ashton Kutcher movie
Jobs
was about as commercially successful as the Apple Newton. It wasn't
Ishtar
, but it was barely watchable save for Matthew Modine's portrayal of John Sculley. Nonetheless, the Steve Jobs story is certainly worth another cinematic try and Universal is about to give us
Steve Jobs
starring Michael Fassbender in the title role. Seth Rogen is Steve Wozniak.
The new movie is based on Walter Isaacson's best selling biography,
Steve Jobs
, and follows a script penned by Aaron Sorkin. The movie is rumored to take place in three acts. Act one shows the Apple co-founder backstage just before the unveiling of the first Mac. The second act deals with Jobs' return to Apple via the company's purchase of NeXT Computer. The last act reportedly shows Jobs back stage before the introduction of the first Apple iPod.
We've pointed out the flaws in both
Jobs
and
Steve Jobs
. Both films never touch on the inspiration and introduction of the Apple iPhone and Apple iPad, the two products that most of the general public associates with the late Apple CEO.
Universal, which
bought the rights to shoot the film from Sony for $30 million
,
started shooting in January inside the famous garage
where
Steve Wozniak said Apple really wasn't born
. Nonetheless, the new movie will perpetuate the myth starting October 9th when the film opens. If you're looking for a mystical sign that the movie will be a hit, that date happens to be the birthday of slain Beatle John Lennon, one of Jobs' heroes.
source:
MovieClips