New Steve Jobs biopic receives great reviews at the Telluride Film Festival
25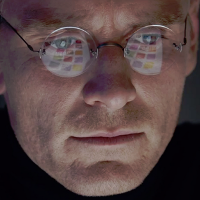 The upcoming
Steve Jobs biopic is expected to hit theaters on October 9th
. Starring Michael Fassbender as Steve Jobs, the movie is currently being screened at the Telluride film festival, and the reviews have been very positive. Director Danny Boyle says that the movie industry has a responsibility to examine the lives of people like Jobs and Facebook founder Mark Zuckerberg. The latter was the subject of the film
The Social Network
, which was written by Aaron Sorkin, the man responsible for the
Steve Jobs
screenplay.
While the movie focuses on Jobs backstage at the introduction of the Mac, the introduction of the NeXT box and the introduction of the iMac, it also examines his relationships with Steve Wozniak (played by Seth Rogen), Jobs' hand picked Apple CEO choice John Sculley, and Mac team member Andy Hertzfeld. Others portrayed include Mac and NeXT team member Joanna Hoffmann (portrayed by Kate Winslet), and Jobs' daughter Lisa.
"These films have to be made. Benign as they may seem, they (Jobs and Zuckerberg) have created forces that are more powerful than governments and banks. And they don't seem motivated by money. I find that extraordinary. It's a paradigm shift we seem blissfully unaware of. They're not interested in money but in data. Our data."-Danny Boyle, Director, Steve Jobs
Critics are praising Fassbender's turn as Steve Jobs, and Sorkin's script is also receiving high marks. This is a film that has been through a lot as
Sony ended up selling the rights to Universal
, and
a number of A-list stars who were offered the Steve Jobs role ended up turning it down
. While
the Ashton Kutcher vehicle "Jobs" failed artistically and financially
, this version of the mythical story sounds like it might do better at the box office.
source:
The Guardian