Steve Jobs pegged 2011 as the year for a 'Holy War with Google,' court docs reveal
22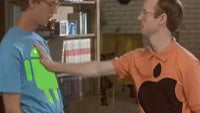 Remember that "thermonuclear war" that
Steve Jobs wanted to unleash on Android
, irked by what was according to him a copycat approach for Google's mobile OS strategy? Well, he didn't just want to release the wrath of the atom on Google, but actually go jihad against Android, as
Samsung's lawyers
are trying to prove before the jury in the trial with Apple.
The proof was unearthed in an email chain between Steve Jobs and Apple's top 100 head honchos. The emails were sent ahead of a corporate retreat in 2010, when Android was well into its mobile OS crusade. As you can see below, Apple's CEO at the time declared 2011 the year of the "Holy war with Google," indicating that a theme in the discussions will be how to avoid slacking, and block Google and Microsoft, which were deemed "
further along on the technology,
" but not really there yet.
Jobs was apparently fully aware that Apple might hang onto successful products for too long, as every innovative company ends up doing at some point. One of the strategies suggested was to "
tie all of our products together, so we further lock customers in our ecosystem
," which Apple has undoubtedly mastered to do unobtrusively. The trial continues, so we can't wait for more insider observations on the Great Mobile Race to leak out.