Google CEO Larry Page on Apple's "thermonuclear war": "How well is that working?"
60
This article may contain personal views and opinion from the author.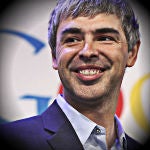 Larry Page took over as CEO of Google in April of 2011, although insiders say that the job was always his, Eric Schmidt was simply "keeping the seat warm" until Page was ready. On the technology side of things, there wasn't much doubt the Page had the skills, but when dealing with the media, Page was a bit reserved at first. But, he's growing more confident, and in a a new interview with Wired, Page is ready to take swings at Facebook. He even commented on Apple's "thermonuclear war" with a confident and clear "How well is that working?".
The key to the interview was that Page really set out his world view. Page's number one concern is simple: always shoot for the moon, both with innovation and in business, because each should feed the other. Page mentioned inventors like Tesla who never saw the success they deserved because they didn't focus on making inventions businesses. Once that balance is struck, it's a matter of keeping up the rate of innovation.
Page is critical of the status quo in business, saying:
How exciting is it to come to work if the best you can do is trounce some other company that does roughly the same thing? That's why most companies decay slowly over time... incremental improvement is guaranteed to be obsolete over time.
His aim isn't to improve by 10%, but by a factor of 10
, which brings a new meaning to
Google X
, and to not be scared to push into new products. He even took a shot at Apple on this front, saying, "Apple only does a very, very small number of things, and that's working pretty well for them. But I find that unsatisfying."
This view is what helped push Google into various markets like webmail, social, and mobile. Although, while Page repeated his worry about moving into webmail, the decision to purchase Android was a relatively easy one apparently. Mostly, because Page was very unimpressed with the market as it stood, which at the time was dominated by BlackBerry, Symbian, and Windows Mobile:
At the time we bought Android, it was pretty obvious that the existing mobile operating systems were terrible. You couldn't write software for them. Compare that to what we have now. So I don't think that betting on Android was that big a stretch. You just had to have the conviction to make a long-term investment and to believe that things could be a lot better.
But, Page's push for Android to be better doesn't stop with software. He reiterated that Motorola is going to be run separately, but promised innovation from that company. The pace of that innovation did somewhat show that Page is disconnected from that division, because he referenced that in "the next 5 to 10 years" we will see a change away from smartphones that use easily broken glass. Motorola CEO Dennis Woodside should probably have told Larry that the
flexible display change
will be starting this year.
Page is obviously very optimistic about the work being done at Google, and he even saw a bright side to the Apple Maps fiasco, and Google Maps being removed from iOS. In his estimation, be fallout from the Apple Maps mess has helped "people realize that we've put a lot of effort and investment into" maps. And,
Page doesn't want to hear from people who think the company shouldn't have built a Google Maps app for iOS
, saying:
you may have the greatest maps in the world, but if nobody uses them, it doesn't matter. Our philosophy has always been to get our products out to as many people as possible.
Of course, Page didn't comment on the company's support for Windows products, but we'll assume that omission would be because Windows Phone won't add much to the "as many people as possible" side of things.
Larry Page has a very unique skill for a CEO: he doesn't let pleasing stockholders scare him away from pushing the company forward, and pushing at a hard rate. Where Page says that "incremental improvement is guaranteed to be obsolete over time", most CEOs see incremental improvement as the easiest way to hold their position as long as possible. Given that Page was always assumed to eventually be the CEO of Google, maybe he doesn't have to worry about losing that position. But for now, it is suiting him extremely well, and we're excited to see what Google brings in the years to come.