"Steve Jobs" flops, producing just $7.3 million in U.S. box-office receipts on its opening weekend
57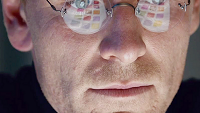 Despite early talk about "Steve Jobs" getting nominated for a Best Picture Academy Award, it appears that the American public really isn't interested in the life of the Apple co-founder and CEO. The movie,
which stars Michael Fassbender in the title role
, is the second major biopic released about the Apple co-founder in the last two years. The first film, "Jobs", starred Ashton Kutcher as Steve Jobs, and failed miserably at the box office.
Universal had high hopes for "Steve Jobs" since it was written by Aaron Sorkin, who had penned the huge hit "The Social Network," about the creation of Facebook. But "Steve Jobs" took in just $7.3 million for its nation-wide opening weekend. Back in 2013,
Jobs earned $6.7 million for its opening weekend
. "Steve Jobs" finished in seventh place in the states from Friday through Sunday, even though early predictions called for it to finish on top.
Recently, it was revealed that
Lauren Jobs, Steve's widow, had tried to prevent the film from being made
, and reportedly called actors like Christian Bale and Leonardo DiCaprio, asking them to turn down the opportunity to portray her husband on the silver screen. Meanwhile,
the documentary Steve Jobs: The Man in the Machine might still be playing at some theaters
. With the use of real-life news clips and interviews, this film takes a darker look at Jobs' life,
which sadly ended on October 5th, 2011, when he succumbed to pancreatic cancer
.
As we've noted, both of the major releases focused on events in Jobs' life that took place well before the unveiling of the iPhone. Considering that the Apple-branded smartphone is the one product that many people associate with him, the failure of these films to explore this time in Jobs' life could explain their poor performance at the box office.
source:
BusinessInsider