Steve Ballmer confirms Microsoft's intentions to produce more hardware
7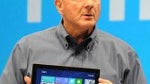 Love it or hate it, it looks like Microsoft is firmly convinced that hardware is a field where it just has to be. Speaking at a tech event in California yesterday, Microsoft's CEO has once again hinted that his company is continuing to explore all kinds of available options to join the hardware game. Understandably worried about the reactions of their partners, the CEO has said that although Microsoft is definitely going into hardware, it believes that it is its partners will be controlling the major part of the Windows ecosystem.
Here's what Microsoft's chief said:
Do I anticipate that partners of ours will build the lion's share of all Windows devices over the next five years? The answer is, absolutely. With that said, it is absolutely clear that there is an innovation opportunity on the scene between hardware and software and that is a scene that must not go unexploited at all by Microsoft.
There you have it - yet another confirmation that Microsoft is looking to build more hardware. The company that brought you Windows has just recently launched its Windows RT-based
Surface
tablet, with a more powerful, Windows 8 Pro-running version expected soon. It's still too early to say if these devices are a market success for Microsoft, but at least they might serve as a reference for their hardware partners, which Microsoft hopes to inspire to build better Windows products in the future.
So the question is - what kind of device should we expect from Microsoft next? This is still beyond anyone's knowledge (anyone that's not in Microsoft, that is), although there have been some recent rumors of a
Surface phone being in the works
. But while we can think of a lot of reasons why that would be the next logical step in Microsoft's portfolio, we can't deny the fact that we lack any substantial evidence of such a device right now.
via:
Microsoft-news