Star Admiral – an iOS card game with 3D graphics and lots of explosions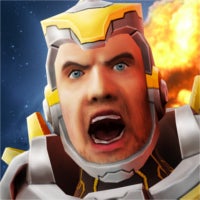 Collectible card games seem to be gaining popularity as of late, with more tabletop simulations coming out for both desktop and mobile platforms. The competition seems to be getting fierce, with titles such as
Hearthstone
, Marvel: War of Heroes, Blood Brothers, and the recent arrival of the good old classic – Magic: The Gathering, on iOS and Android.
Well, the developers at Hardscore Games seem to believe they can bring something interesting to the table with their offering – Star Admiral. Still working by card game rules, this title received fancy 3D animations depicting the battles in a much flashier way, compared to its competitors. Developers say they wanted it to feel more like a computer game and less like a tabletop one.
The controls seem fairly intuitive – done via drag and drop, which has proven to translate well onto touchscreen. The game's focus is PvP and there is a matchmaking system in place to make sure the skill gap between players in a match isn't too excessive. The matches themselves are meant to be fast-paced and fairly quick to end, say the developers, since this is usually a requirement, due to the nature of mobile gaming. (One would usually take out the phone for a quick game when they have a 15-minute window, right?)
Star Admiral is free to play and, naturally, there are decks of premium cards available to buy, however the creators insist that the game is perfectly playable without paying a dime. The trailer proudly bears the "made by gamers for gamers" motto and Heartscore says that even if some premium cards can give you an edge, there is always a twist, which any experienced player can take advantage of to win the game with a basic deck. It's "Free to Play, not Pay to Win", insists the developer who filmed the gameplay demo.
Even if you're not a fan of CCGs, you might appreciate the humor in Star Admiral's teaser trailer. Check it out below to see what we mean. Oh and let us know what you think of the recent card game trend. Any fans out there?
Get Star Admiral (
iOS
)