Blizzard's Hearthstone: Heroes of Warcraft arrives on the iPad in select regions
9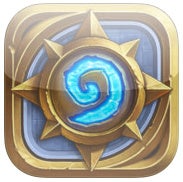 Blizzard, the company behind one of the most successful and popular PC games ever, announced today that it's launching its free-to-play collectible card game – Hearthstone: Heroes of Warcraft – for the Apple iPad in select regions. At the time of writing, the free-to-play title is already available in Canada, Australia, and New Zealand and it is stated that Hearthstone will soon be available for the iPad worldwide.
But what's all the fuss about? Well, Hearthstone: Heroes of Warcraft allows players to engage in card duels against real or AI opponents. As you may have guessed, the collectible cards in Hearthstone feature heroes and characters from the Warcraft universe - Arthas Menethil, the Lich King, Thrall, and Jaina Proudmoore are all aboard along with the regular orc peons and death knights.
Blizzard revealed that it has developed an iPad version of the game due to the constant demands of a portion players, who insisted on duelling with cards while on the go.
"Hearthstone's player base has already grown to more than 10 million registered accounts following the official Windows and Mac release, but we saw that a few people online were holding out for the iPad version," said Mike Morhaime, CEO and cofounder of Blizzard Entertainment. "Instead of calling those folks up individually, we figured we might as well let everyone know that the global iPad rollout for Hearthstone has begun, and pretty soon it'll be available everywhere. The game is a natural fit for tablets—we encourage everyone to check it out on their couch, in their backyard, in a coffee shop... or anywhere else they take their iPads,"
Blizzard ssaid.
Blizzard also revealed that their Warcraft-inspired card game will become a universal iOS app and will land on Android "in the future". A version forWindows RT-powered tablets is under development, as well. Hearthstone versions for these platforms are currently being worked on and will be most probably released, in a Blizzard-like fashion, "when they are done".
source:
Blizzard
via
Engadget