Sprint's Adib to report on the carrier's LTE build out at a company conference
12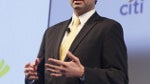 Fared Adib, senior vice president of product development and operations at Sprint Nextel, is planning on speaking Wednesday at Sprint's Open Solutions Conference in San Jose, Calif. Among the news he is planning on discussing is the fact that Sprint has sold
11 LTE enabled smartphone models
this year, which puts the nation's third largest carrier well on the way to its goal of adding 15 such units to its lineup in 2012. Last month, Sprint CEO Dan Hesse told investors that the carrier had sold more than 1 million units of LTE supported phones even with an extremely limited LTE footprint.
"It speaks loudly to the fact that we are No. 3 operator but trying to lead and be No. 1 in many areas."-Fared Adib, senior vice president of product development and operations, Sprint Nextel
During Adib's talk, it is expected that he will discuss the greater than 1 million femtocells that the carrier has placed throughout its network. The femtocells are small units that improve the quality of cellular communications. Sprint has met its goal of deploying over a million of them, starting with 250,000 deployed in March 2011. In late July, the carrier told the FCC in a filing that it had 950,000 femtocell units in place, a figure that has since risen by more than 50,000 in the last few months.
Sprint launched its LTE network in June and should
cover 123 million POP
s by the end of the year. But Sprint would still have a long way to go even if it meets that target. For example, Verizon's LTE network currently covers 235 million POPs which should reach 260 million by the the end of this year. AT&T currently covers 135 million POPs with its LTE signal, a figure that is expected to rise to 160 million by the end of 2012. Adib notes that Sprint has over 500 patents, more than Verizon and T-Mobile.
Sprint has
recently agreed to sell 70% of the company to Japan's Softbank
, a deal that still requires stockholder and regulatory approval.
source:
FierceWireless