Sprint video compares its two 4G handsets
4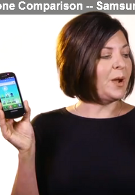 As we
reported
, Sprint is expected to launch its second 4G enabled handset on August 21st. That is the day that the carrier's variant of the Samsung Galaxy S Pro, the Epic 4G, becomes available. When launched, the Epic 4G will join the EVO 4G to give the mobile operator a 2 device head start over other carriers in the 4G battlefield.
Some Sprint customers might soon have a tough decision to make, Epic or EVO? To help ease the stress of making a decision, Sprint itself has made a video comparing the two units. One thing that sets apart the Epic from the EVO (and the Galaxy S Pro from the Galaxy S) is that the former offers you a landscape sliding QWERTY keyboard. Another major difference is that the Epic display will be a Super AMOLED screen. Samsung has learned the Golden Rule of production-"Those who own the Gold makes all the rules"-and since the Korean based firm is responsible for the production of most of the world's Super AMOLED screens, Samsung gets first dibs on what is produced. Another big difference between the two is in "media screening" as the video points out that the EVO 4G uses HDMI while the Epic 4G favors DLNA for wireless transmission of video from your phone to a monitor.
Sprint comes right out and says that the Epic 4G is an entertainment power house and is the best entertainment device in its lineup. But there are some advantages that the older 4G phone has. The EVO 4G has already received its Android 2.2 upgrade and by next week, should be ready to download the Adobe Flash Player from Android Market. Also, let's not forget that the display on the EVO might not be Super AMOLED, but it is a good .3 of an inch bigger. Overall, though, it seemed that Sprint was really leaning toward the Epic 4G in the video. Just a tad over 2 months after being launched and already Sprint is throwing the EVO 4G under the bus.
HTC EVO 4G Specifications
|
Review
Samsung Epic 4G Specifications
|
Hands-on
source:
YouTube
via
AndroidandMe