Sprint responds to the AT&T and T-Mobile merger
38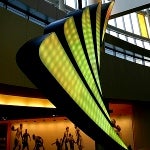 Given the sudden twist of fate for Sprint, which went from rumored to
merge with T-Mobile
, to being the smallest of the large US carriers in a few days, the CDMA carrier is certainly not very happy about it.
It didn't hesitate to express its concerns towards the creation of a carrier that in the end will be almost three times as large as its own subscriber base. Sprint issued a press release commenting on the
merger
that will be in full motion a year from now, but first has to pass big regulatory hurdles:
"
The combination of AT&T and T-Mobile USA, if approved by the Department of Justice (DOJ) and Federal Communications Commission (FCC), would alter dramatically the structure of the communications industry," Sprint said in a statement. "AT&T and Verizon are already by far the largest wireless providers. A combined AT&T and T-Mobile would be almost three times the size of Sprint, the third largest wireless competitor...
If approved, the merger would result in a wireless industry dominated overwhelmingly by two vertically-integrated companies that control almost 80% of the US wireless post-paid market, as well as the availability and price of key inputs such as backhaul and access needed by other wireless companies to compete... The DOJ and the FCC must decide if this transaction is in the best interest of consumers and the US economy overall, and determine if innovation and robust competition would be impacted adversely and by this dramatic change in the structure of the industry.
"
Certainly valid points, but America loves big, and we are sure AT&T is ready to make some concessions regarding all of these for in front of Uncle Sam, otherwise it wouldn't be hammering out a deal, if it thought it won't get approved by the FCC and the like. It will be interesting to follow the regulatory hearings, and gauge about the possible pricing strategy of the new AT&T.
source:
AllThingsD