Sprint raises ETF on advanced devices to $350 on September 9th?
47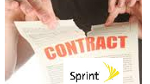 According to a Sprint Users forum post from someone claiming to be a Sprint insider, the nation's third largest carrier is
set to raise the ETF on all advanced devices to $350
activated on and after September 9th. Those who activated devices prior to that date will not be affected, according to the post.
Currently, Sprint has a $200 ETF
on its devices and a Sprint representative could not confirm or deny the new, higher fee. With more and more higher priced smartphones hitting the market, the carriers have more to lose from a customer who breaks his or her contract, thus it makes good business sense for them to raise the ETF. Of course, on the other side of the equation are account holders, some of whom dying to break a contract in order to pick up the latest and greatest model at a subsidized price.
Before you lock yourself into a 2-year contract, make sure that the phone is a model that you
wouldn't mind having for the next 2 years
(even though some carriers will allow early updates, it is best to assume the worse case scenario), and that the mobile operator that you are chaining yourself to is one that will provide good cellular service in the places you go to, and offers the features that you want on your device. Also, know yourself! If you are the type that must have the latest and greatest new smartphone that is launched, it might be best to wait just a little bit longer to get the phone you really want. Just realize that it is the nature of the beast that as soon as you buy that new handset with a dual-core processor, a new model will be announced with a quad-core processor under the hood.
source:
SprintUsersforum