Sprint pulls video ad calling T-Mobile "ghetto" out of rotation
47
The mobile carrier wars are heating up. Sprint today pulled a video ad out of rotation when an unflattering comment was made about rival operator T-Mobile. In the ad, Sprint CEO Marcelo Claure is sitting with "Actual Sprint, T-Mobile, Verizon and AT&T customers," and wants them to say the first thing that comes to their minds when they hear the name of rival wireless operators.
The lady to Claure's right was asked what pops into her mind when she hears "T-Mobile." She answers, "Ghetto." She adds that there are only three carriers that she hears about, Verizon, AT&T and Sprint. She goes on to say that when people with T-Mobile are asked why they use T-Mobile, they have no idea.
Interesting that Sprint would feature a woman in its ad that knows absolutely nothing about the wireless industry. After all,
T-Mobile surpassed Sprint last year
to become the nation's third largest carrier And even if you are not a T-Mobile subscriber, if you are knowledgeable about the wireless industry and someone asks you what comes to mind when they say T-Mobile, you might respond with Music Freedom, Binge On or Data Stash.
It seems that this ad plays right into T-Mobile CEO John Legere's portrayal of his fellow CEO's as being elitist. As we've said, Sprint has already pulled the ad, but not before the damage has been done.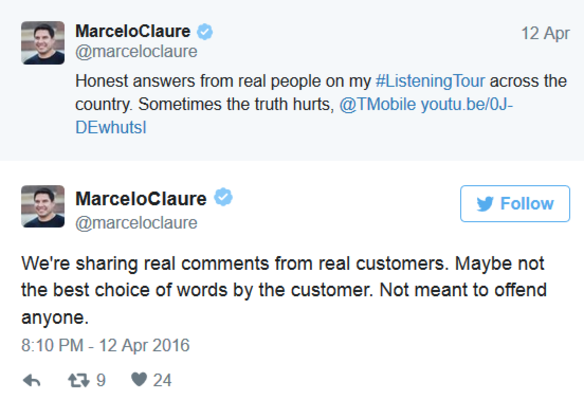 Sprint's CEO comments on ad calling T-Mobile "Ghetto
source:
@marceloclaure
,
TheVerge
via
FierceWireless