Sprint halts online sales of Windows Phone, but says still committed to platform
50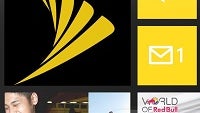 If you have been shopping for devices online among the major US carriers lately, and happen to be a fan of Windows Phone, you might have noticed that you cannot order any device with Microsoft's operating system from Sprint's web site.
Sprint was not a carrier with a significant Windows Phone line-up to begin with. The two most recent models in the stable were the
HTC 8XT
and the
Samsung ATIV S Neo
, both entry-level-spec devices.
The HTC 8XT fared
well enough in our review
for the device it is. Samsung's ATIV S Neo was
less than stellar
. In the bigger picture of smartphone offerings however, both are comparatively forgettable though, and we suspect that these devices were not flying off the shelves at Sprint.
Sprint says that newer Windows Phone devices are on the way, however. "We do expect to bring new Windows Phone devices to our customers in the near future, and Sprint is committed to offering a variety of operating systems to our customers," according to an emailed statement by Sprint. Naturally, no details about what devices, when, or how much, were offered, but we expect the
Lumia 735
to make an appearance.
The strongest carrier partners for Windows Phone in the US are AT&T and T-Mobile, who, along with their pre-paid brands, easily dominate the landscape with a wide variety of devices at the low and high end. While a distant third, Verizon offers a three Windows Phone devices on its web site, notably the
HTC One (M8) for Windows
, though sadly no longer the
Nokia Lumia Icon
.
Microsoft has brought on a number of new hardware partners for Windows Phone and Windows-based tablets, though ostensibly, many of these are aimed at developing markets. Even the most recent Lumia handsets introduced by Microsoft, the
Lumia 830
,
Lumia 730
, and Lumia 735, are not banner bearers in any particular spec area.
Lacking other details, we will have to wait and see what announcements Sprint makes as it adjusts its smartphone line-up.
sources:
PhoneScoop
and
FierceWireless