HTC 8XT Review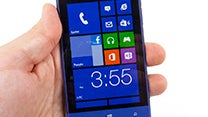 Introduction
HTC has been in the news a lot recently, and unfortunately it is as much for the gorgeous, all-card-on-the-table
One
as it is for their poor financial results. But last fall HTC made another newsworthy announcement that didn't get too much attention: their recommitment to Windows Phone. That this news flew mostly under is no surprise; much like HTC itself the Windows Phone platform has been praised for its beauty and critically well-received, but that praise hasn't translated into market adaption.
The
HTC 8XT
is Sprint's first Windows Phone 8 device, but despite the extra letter the 8XT isn't necessarily an upgrade to the 8X we liked last fall. While visually similar, there are some significant changes, such as the addition of BoomSound speakers and a downgrade in display resolution. In an increasingly crowded lineup, can the 8XT survive on Sprint?
Design
At first glance we wouldn't blame you for confusing HTC's 8X and the new 8XT. They share the same form factor and materials, but there are easy to spot differences. To start with the good, the single, rear-facing speaker of the 8X has been replace with dual, front-facing BoomSound speakers. As with the One, we love the sound they produce. Other changes are more minor.
The HTC 8XT feels excellent in the hands, with subtle curves in the right place that belile the phone's angular appearance. Buttons offer good feedback, and the soft touch back is perfectly done though the back cover takes way too much effort to remove. If it wasn't for the mis-matched colors the phone's purple would be more ambiguously blue, and therefore more uni-sex. As it is we feel the color will appeal mostly to women, though it is good looking enough that we'd carry it ourselves. We are disappointed in the little design changes, but they are mostly minor flaws and overall the HTC 8XT retains the same premium fit and finish of the 8X which we have long expected from HTC.
Display
The display is another area where HTC cut back. Gone is the HD 720x1280 display of the 8X, replaced with a
480x800 panel
. It remains sized at
4.3"
, resulting in a drop from 342ppi on the 8X to mediocre 217ppi on the 8XT. It still has good brightness, color and viewing angles, and Windows Phone's flat design masks the drop well, but the loss is noticeable browsing the web or viewing multimedia.
HTC 8XT 360-Degrees View: