Sprint flier shows the Bold 9930 & Torch 9850 priced at $250 & $150 respectively
15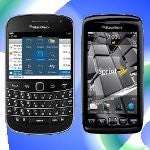 By now, loyal BlackBerry fans out there are probably soaking in the anticipated price of the BlackBerry Bold 9900, which appears to be going for
$299.99 with some carriers
. However, we're getting some
insight
in regards to Sprint's pricing for
their version of the handset
– plus another one.
Taking a look at the leaked Sprint flier, it shows that the
BlackBerry Bold 9930
will be sporting a price of
$249.99
with a 2-year contract. Meanwhile, the
BlackBerry Torch 9850
will be priced $100 less at $149.99.
Now that we're getting a good indication of what to expect with pricing, will you still be interested in either of the two?
source:
BGR