Sprint expected to report a loss of 900,000 subscribers for the second quarter
58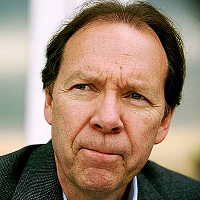 Sprint is expected to release its second quarter earnings on July 30th, but analysts aren't expecting to hear good things. In fact, three analysts from Jefferies, Mike McCormack, Scott Goldman and Tudor Mustata, forecast that the carrier will report a drop of 879,000 in phone subscribers for the three month period that ended in June. In the face of
subscriber additions by Verizon
and
AT&T announced last week
, just what is going on with the nation's third largest carrier?
For some time now, Sprint has blamed the upgrading of its network for the drop in its subscriber rolls. While the mobile operator is finishing the Network Vision update, poor quality service has led large numbers of subscribers to bolt. The trio of Jefferies analysts say that the loss of nearly 900,000 subscribers for the quarter will be among the worst in company history.
The good news is that Sprint could be finished with the modernization of its network by the middle of the year. And once it is done, churn will improve, says the carrier. Sprint has numbers to back that up. In markets where it is 70% complete with the network upgrades, churn has returned to pre-upgrade levels. And in markets where all of the work has ended, churn has dropped below the pre-upgrade level. Thus, Sprint is comfortable with predictions that customer growth will return in the last two quarters of the year.
"While network issues are likely to abate, leading to better churn, we believe it will take years and intense marketing to fix brand perception, pressuring gross add share for a prolonged period. Pricing changes will almost certainly have to be adopted as S(print) remains relatively uncompetitive. Nonetheless, any pricing move will likely elicit an immediate response from competitors, putting S(print) in an unenviable position...over the past couple of years, the fundamental investment thesis for Sprint shares has hinged on future operational improvements. We believe investors are growing increasingly fatigued with the network improvement story, and will begin to assign a more discounted valuation to the shares. In addition, we stress that executing yet another turnaround is increasingly difficult, and will likely take longer as scale erodes and competition intensifies."-Mike McCormack, Scott Goldman and Tudor Mustata, analysts, Jefferies
Of course, there is the possibility that Sprint will offer to buy T-Mobile next month, for $32 billion. The latter
has been adding customers thanks to the Pied Piper of mobile
, T-Mobile CEO John Legere. Speaking of executives, Sprint CEO Dan Hesse's pay package has received plenty of flak from Institutional Shareholder Services. ISS is a company that suggests to mutual funds and other institutional stock holders, how they should vote their proxies.
ISS says that the $49 million pay that Hesse took home in 2013 was the highest among the executives of the top four mobile carriers, and it has an issue with that paycheck. ISS especially opposes the $18.7 million bonus Hesse received, because it was due to his longevity with the company instead of being performance based. John Legere made $29.2 million, and while that might seem high, if any executive in the industry earned his pay last year, it was the T-Mobile CEO. Legere's number one foil, AT&T CEO Randall Stephenson, made $23.24 million while Verizon's Lowell McAdam took home $15.82 million. Verizon Wireless CEO Dan Mead was not listed in the data.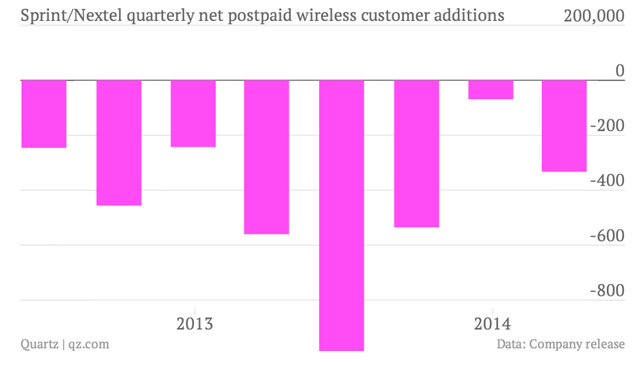 Sprint continues to bleed customers
source:
FierceWireless
via
AndroidAuthority