Sprint and Clearwire fight over 4G device revenue
1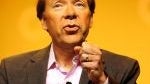 If you own an
HTC EVO 4G
or
Samsung Epic 4G
from Sprint, you know that you pay an extra fee for owning a 4G device. You pay that money regardless of whether there is Clearwire 4G service in your area. Clearwire and Sprint are now seeking arbitration, as
Sprint
has only been paying for devices activated in 4G-capable cities, and Clearwire is demanding more.
This struggle is made more complicated by the fact that Sprint is the largest shareholder of
Clearwire
. Think of it like an adult (Sprint) and their twenty-something child (Clearwire). Clearwire might ask Sprint for help from time to time, but it is largely its own entity. Clearwire is also struggling to maintain operations. They have
laid off employees
, and are attempting to
auction off unused bandwidth
.
Now Clearwire is demanding more money from Sprint. Considering there are 810,000 4G devices in non-
4G cities
, that's a considerable amount of money every month. It is ever more important considering Clearwire's financial woes. Clearwire said that an unfavorable resolution "could require [them] to revise [their] current business plans and projections and could also adversely affect [their] results of operations."
Both Sprint and Clearwire say that they had agreed on how to disburse 4G revenues. They both also agree that they have different interpretations of that agreement. Whatever happens, we hope it won't result in an increased 4G fee.
source:
FierceWireless
Recommended Stories