Sprint CFO: Unlimited war not sustainable; price hikes necessary down the road
19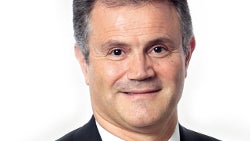 Now that all four major U.S. carriers are offering unlimited data plans, is this a battle that will go on for years? Not according to Sprint CFO Tarek Robbiati. The executive says that providing unlimited data at current prices cannot continue. Being CFO means that Robbiati is concerned with how Sprint is spending its money (and money coming from parent company SoftBank). He says that unlimited data requires more capital expenditures to make sure that an operator's network can handle the increased capacity coming from unlimited subscribers.
Sprint is said to have a fairly large inventory of spectrum. This means that the nation's fourth largest carrier can lay in some additional cellular capacity at a lower cost than its rivals, giving them a huge advantage. Speaking about the industry as a whole, Robbiati says that eventually we will have to see price hikes for unlimited plans. Yet, the carriers don't seem to want to stop offering unlimited again, because it is obvious at this point that it is what consumers want. Even Verizon, whose CFO Fran Shammo
tried to tell Big Red customers that they didn't need unlimited
, had to join the party. Sprint's high frequency airwaves might also be something in its favor as far as unlimited is concerned. They don't send signals as far as low frequency spectrum, but they do carry more data.
BTIG analyst Walter Piecyk recently said that Verizon Unlimited will cost the operator $3 billion in market value. The analysis is based on the premise that subscribers will leave their high priced limited data plans for the new unlimited offering. As a result, ARPU (Average Revenue Per User) drops, earnings decline and the stock falls. However, as we told you yesterday,
Deutsche Bank's analysis forecasts no ARPU drop for Verizon
.
"It has to be said in the longer run, is unlimited a sustainable proposition? Probably not. … The one thing that is unavoidable is the expense incurred in deploying capex, which is behind the need for capacity. Over time, unlimited will have to involve price increases."-Tarek Robbiati, CFO, Sprint
Just as each of the four Beatles were constantly analyzed as individuals, (John, funny, witty; Paul, well behaved, a tunesmith; George, the mystical silent one; and Ringo, the clown) Craig Moffett at MoffettNathanson research did the same to the four major U.S. wireless carriers. Verizon is using small cells and densification to increase capacity without having to build new towers; AT&T is consumed by its efforts to build a digital media behemoth; Sprint's inventory of spectrum means that it can won't have to spend as much to increase capacity; and T-Mobile is the only carrier focused on network competition. Moffett says that despite the consensus view, Verizon might have the winning strategy.
source:
FierceWireless