Sprint CEO Dan Hesse: microUSB charging to become standard in the US by 2012
14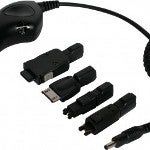 There are many different charging and syncing cables out there - basically, all manufacturers ship their own charging and syncing cables, and they are not compatible with other manufacturers' devices.
This has been a real nuisance of ours, and it seems we are not the only ones who feel that way - Sprint's CEO Dan Hesse has described the problem as "a pet peeve of mine for a very long time" at CTIA 2011, and has announced that by January 2012, all US phones will use microUSB chargers - presumably, the idea behind the proposition is that these chargers should be compatible with all devices on the market.
We have seen a
similar initiative in Europe
, but as of now, there hasn't been a considerable progress with it, and it seems that the bottom end from this proposition will be that most phones
will ship with microUSB chargers
in Europe.
As things stand at the moment, there is nothing we can do about this issue, but to keep our fingers crossed - who knows, come January 2012, we may have a ubiquity standard for microUSB chargers, so we would need only one, which would be compatible with all our devices.
source:
nexGadget
and
geek.com