Europe will see standard microUSB charging on most phones in 2 years
4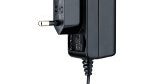 It was
back in June 2009
when Europe agreed with 14 major phone makers to introduce microUSB as a standard for charging mobile phones. And now, a year and a half later, the bill has passed approval of the European Commission and its standardization bodies. The new standard will bring officially standardized cell phones and chargers in early 2011, while
by the end of 2012
the microUSB chargers will be "predominant" in Europe.
Nokia, Samsung, RIM, Apple and Motorola were some of the
14 manufacturers
that agreed to use microUSB chargers. The currently used proprietary chargers face allegations as a poor environmental choice as with the purchase of a new cell phone users usually dispose of the old charger. Having separate chargers – of course – is a plain inconvenience, as well.
Some of the manufacturers' phones already use microUSB chargers, but many still carry a proprietary charging slot. Apple, for example, uses the proprietary 30-pin slot, while Nokia sticks with its own 2mm charger on some models.
European Commission Vice-President Antonio Tajani, Commissioner for Industry and Entrepreneurship, commented:
"The common charger will make life easier for consumers, reduce waste and benefit businesses. It is a true win-win situation."
source:
Europa
via
SlashGear