Sprint CEO Claure insinuates that the carrier will hike rates with the iPhone 7 launch
4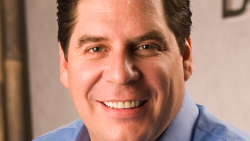 Oh Marcelo! Sprint fans were having a great day and then you went and destroyed it by hinting about a rate hike in the not too distant future. This morning, Sprint released its earnings for the fiscal first quarter and the nation's fourth largest carrier reported
its fourth consecutive net addition in postpaid phone subscribers
, hitting a level for the quarter not seen in nine-years.
Sprint's moribund stock rose from the dead, soaring 28% on Monday. And
Sprint fans got to see the carrier's new ads
starring Paul "Can you hear me now?" Marcarelli. One of the commercials even showed the actor playing Pokemon Go. It was as though Sprint was telling T-Mobile, "Hey, we can be topical too."
Yes, it was a fun and exciting day for Sprint fans who haven't seen so much attention lavished on their carrier since the
Palm Pre
was
unveiled at CES in January 2009
. Ok, so we might be exaggerating a little. But before you can say
buzzkill
, Sprint CEO Marcelo Claure said this afternoon that "You can expect us to come up with a new set of rate plans before the next iPhone." According to master leaker Evan Blass, the
Apple iPhone 7
is expected to be released on September 16th.
No, Claure did not actually say the words rate hike, but he did say that he is "going to add things that generate shareholder value." And since shareholders like fat profits, Claure basically was hinting that higher rates are just weeks away. The CEO did say that the carrier's next move will be a "Game changing" and aggressive one.
You can't blame Sprint for trying to stop
offering its service at half the price charged by its rivals
. It has helped Sprint garner new subscribers, but it also led to a net loss of $302 million in the quarter. That was a sharp drop from the $20 million net loss Sprint rang up in last year's fiscal Q1. Sprint is committed to continue the half-off pricing for those who have already signed up for the deal, through May 31st 2018. But it sounds like the carrier is about to stop offering the deal to new subscribers soon. If you'd like to pay half of what you're paying AT&T, T-Mobile or Verizon for another 22 months, you need to make your move soon.
source:
CNET