Spotlight: Challenger Comics Viewer packs generous functionality for a free, non-ad supported Android app
5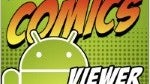 Looking for a cool free Android comics viewer? Consider the Challenger Comics Viewer - it's a free (no ads!) comics, manga, books and PDF viewer that packs support for JPG, PNG, GIF, WebP (Android 4.0+), BMP, PDF, CBZ/ZIP, CBR/RAR, and ePUB formats - basically everything short of actual paper comic books.
Challenger also has a long list of features that make reading comic books on your device that much better! We're talking stuff like automatic page loading, multi-touch zoom and free scrolling, built-in library with covers, border cropping, reading from right to left (for the manga enthusiasts among you), image quality filter, autoscrolling, color themes, MultiWindow support on Samsung phones, and more goodies. You can even stream comic books as they download from the Ubooquity server, meaning you don't have to wait for downloading big files.
Obviously, The Challenger (who made this app) has been keeping his ears open to user suggestions, and kept on adding new functionality with updates. Say what you will, but this comics viewer is way generous for a free, non ad-supported app. Grab it from Google Play via the link below.
Recommended Stories