Spotlight: Blown Away is a game that might blow you away with its style and gameplay
6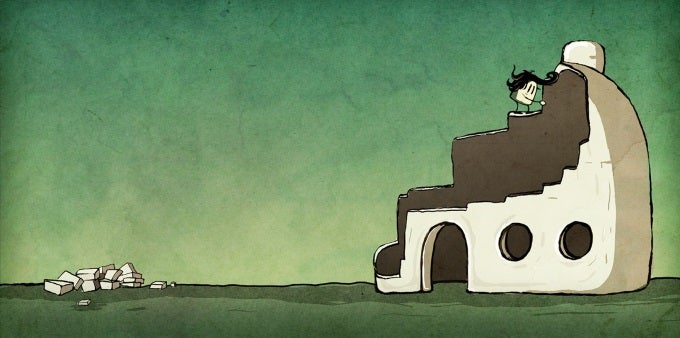 Every once in a while, a new mobile game gets released and outright entertains us with its oddball concept and original art. One such rare specimen is Blown Away, a platformer which will, quite frankly, blow you away! In this delightful work of digital art, you play as Hendrik, a bean-shaped creature that had everything taken away... except for a single strand of hair on his had, and a pair of battery-powered teleporting shoes. Battery-powered teleporting shoes... it sounds like something to be announced at CES 3016 or so!
Thankfully, we won't have to wait this long to witness the pair of shoes in action, as they seem to operate fine on Hendrik's end — with one exception, of course. That battery is darn quick to discharge! It literally takes a single teleport to empty its reserve, and then you must spend precious seconds waiting for a recharge as you plan your next move. That's Blown Away's gameplay in a nutshell — a whole lot of walking, shifting, and carefully timed teleports to avoid obstacles and walk for the duration of 120 levels, all in the name of finding the remains of Hendrik's house and restoring his peaceful life.
In addition to its fun and engaging gameplay, Blown Away features fantastic graphics and smooth animations, all with a hand-drawn vibe and incredible detail. The art in this game is a labor of love and your retinas will thank you for subjecting them to it. The sound design is equally appropriate and fits the game like a glove.
Blown Away is free like the air we breathe up to level 30, at which point it asks you for a one-time $2.99 payment to unlock the other 90 levels. A 30 level demo is pretty generous, no matter which way you put it, so by the time you reach the paywall, you'll have a pretty good idea of whether the rest of Blown Away is worth the $3 transaction.