Cygnett FlipFiber Samsung Galaxy S4 case hands-on
11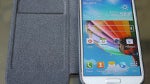 Case manufacturers seem to be on point when it comes to cases for the Samsung Galaxy S4, which is especially obvious looking at the vast selection available from Cygnett's lineup. Already, we've checked out the UrbanShield Samsung Galaxy S4 case, but this time around, we're scoping out Cygnett's take on Sammy's very own flip cover case. Specifically, it's the microfiber sporting
Cygnett FlipFiber case
, which so happens to combine the function of a wallet and flip cover case, together in one.
By now, we're all aware how some of the
wallet cases for the Galaxy S4
tend to beef up the handset's overall size, but with the Cygnett FlipFiber case, it actually does a magnificent job to minimize it as much as possible. Going further than that, we really like how the entire case is
doused in microfiber material
, which essentially gives it a soft touch all the time – plus, the line design throughout the front and back splashes on some style to it. Furthermore, the cutout for the earpiece is also something we appreciate, but unfortunately it's not a smart cover in the way it'll automatically turn on/off the display when it's opened/closed.
On the inside, there's a
single slot
that accommodates either an ID or credit card – whichever you choose to bring along with you. Indeed, the Cygnett FlipFiber case isn't going to necessary replace your entire wallet, but nonetheless, it's useful that we're given the option of carrying something along with our smartphone. For those wondering, it's priced at
$34.99
, which also comes included with a screen protector.
source:
Cygnett
More Samsung Galaxy S4 cases to check out!