Speculation centers on Google's Senior V.P. Nikesh Arora as Motorola Mobility's CEO post-merger
4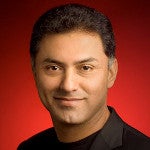 Even though the
Motorola Mobility-Google merger
has
not yet received the final approvals
necessary to close the deal, speculation is circling that if the deal does close, Google's business officer and senior VP Nikesh Arora would be tapped to run Motorola Mobility. The rumor, which was heard by
Business Insider
, says that Arora has been pleading for a CEO position somewhere
ever since Larry Page took that spot at Google
when Eric Schmidt stepped down from that position. Giving the Motorola Mobility spot to Arora is seen as a way to appease the executive so that he doesn't jump ship to a competitor.
If the rumor does pan out, Arora's current position would be filled by Dennis Woodside, currently Google's current sales lead. Neither Google nor Motorola Mobility would comment on the rumor. There are some reasons to think that the talk is nothing more than gossip. First, by putting its own man in the CEO spot at Motorola Mobility, it would call into question the independence that Google would have on things like hardware design. More importantly, it might make other Android manufacturers wonder if Motorola Mobility will be
getting priority from Google
on Android matters.
And what would happen to Motorola Mobility's current CEO, Sanjay Jha?. The man who spearheaded the company's revival and led the Android Invasion during the launch of the Motorola DROID hasn't said if he would stay or go post-merger. But there is a problem brewing between Jha's visions and those of Google. While Jha wants Motorola to differentiate itself from other Android makers by using a custom interface on its phones, Google wants nothing
but stock Android
on its models.
source:
BusinessInsider
via
electronista