The latest word on the Google-Motorola Mobility merger
17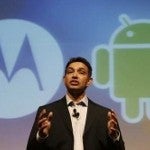 Both
Motorola Mobility
and
Google
shareholders have voted to allow the purchase of the former by the latter for $12.5 billion. But that doesn't end the approvals necessary to get the deal closed. Besides the shareholders, two countries have signed off the deal, Turkey and Russia. Antitrust clearance, or waiting period expirations, are required for the U.S. Department of Justice, European Commission, Canada, China and Israel. In those countries, the deal can be approved by having the appropriate official sign the proper paperwork, or by letting a certain period of time go by without raising an objection to the merger.
While the waiting period has expired in China and in the U.S., both countries have informed Motorola that they have
not completed their respective investigation
. Last month, the Chinese Ministry of Commerce said that it had started Phase 2 of its investigation of the deal. While there hasn't been much media coverage of any objection to Google buying Motorola Mobility like there was with the
never completed $39 billion proposed purchase
of T-Mobile by AT&T, there have been consumer groups in Europe writing to European Union to try to get the deal stopped while in the U.S., Consumer Watchdog has also written to the EU to ask them to scrap the merger.
Consumer Watchdog has written several letters accusing Google of
being in bed with the U.S. Government
. They also have made several videos (see below) criticizing Google's Chairman, Eric Schmidt. Part of their letter to the EU reads, "
Allowing the Motorola Mobility deal would provide Google with unprecedented dominance in virtually all aspects of the mobile world – manufacturing, operating systems, search and advertising. It would be a virtually unstoppable juggernaut. We urge the Commission to block the proposed $12.5 billion deal
." Despite these objections, Motorola Mobility still expects the deal to close early this year, but does say that factors outside of its control can delay or scrap the deal altogether.
The entire letter from the consumer advocacy group to the EU can be read by clicking on this
link
.
source:
AndroidandMe