Sony trolls Apple's iPhone 6 announcement, says its Xperia smartphones are "better than bigger"
48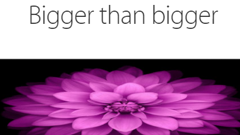 A few hours ago, when Tim Cook announced Apple's new
iPhone 6
and
iPhone 6 Plus
, he presented them as being "bigger than bigger." That's certainly something that you'd expect to hear at an Apple announcement, and it's the tagline that the Cupertino giant will be using for its new handsets from now on. It's also something that the competition can try to poke fun at.
Almost immediately after Apple unveiled the two iPhone 6 models, Sony took to Twitter to suggest that its Xperia devices are "better than bigger" - obviously letting us know that it's not impressed with Apple's new iPhones. Sony has all the reasons in the world to remind us about its Xperias, because it, too, has two brand new flagship smartphones: the
Xperia Z3
and
Xperia Z3 Compact
, both unveiled last week at IFA 2014. Sony's "better than bigger" tweet includes a link to a webpage that encourages smartphone users to switch to an Xperia.
Just like the iPhone 6 and iPhone 6 Plus, the Xperia Z3 and Xperia Z3 Compact have different sizes, but their internals are relatively similar. Obviously, the 4.6-inch Z3 Compact can be seen as a direct competitor to the 4.7-inch iPhone 6, while the 5.2-inch Z3 will be competing with the 5.5-inch iPhone 6 Plus.