Sony shows off its answer to Google Glass
16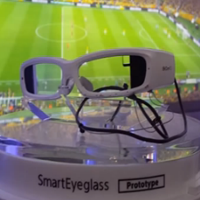 Following its presentation Monday at MWC, Sony revealed more information about its SmartEyeglass concept, which is the Japanese manufacturer's answer to Google Glass. Sony suggests that you will be able to watch a soccer game while wearing the specs, and see the name and stats of certain players. Or, you might arrive at the airport and instantly see check-in information including the gate number, and directions on how to get there.
Unlike Google's connected specs, Sony's SmartEyeglass also comes with a wired hand-held computer that controls the UI and the camera. Sony's concept also includes something called
Binocular see-through eyewear display.
This makes viewing the information on the specs more comfortable by having the information on the screen appear at a distance from your eyes.
Other features of the Smart Eyeglass include an embedded camera; an accelerometer, gyro and compass; a brightness sensor; Wi-Fi and Bluetooth connectivity and a microphone.
Sony first displayed the specs at CES 2014 in Las Vegas and on Monday, continued to expand on the concept a little more with the gadget available for previews at MWC. Right now, the prototype requires the presence of an Android phone as the apps for the glasses run on the handset. Sony says that it is working with partners on an SDK, which has a similar framework as the one for the Sony SmartWatch 2. The SDK will offer control of what's displayed on the binocular see-through eyewear display, along with access to sensors, microphone and camera.
Sony is still well behind Google Glass in terms of when Sony's Smart Eyeglass will eventually hit the market. The Japanese manufacturer says that it will reveal more info about the device soon, but has not yet decided when the glasses will be made available to consumers.
source:
Sony
via
AndroidGuys