Sony shows Android-based, touch-enabled projector concept at IFA 2016, and we got to try it
16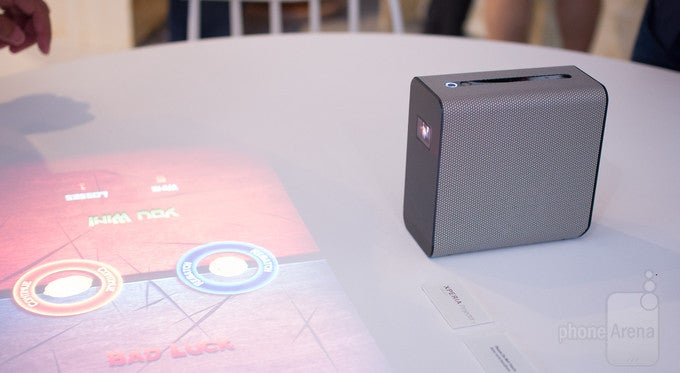 There's this thing about the future – it is uncertain. 50 years ago, people envisioned us having robot butlers, flying cars, and colonies on other planets by the turn of the 21st century. Instead, we got automated vacuum cleaners that can't tell when there's kitty poop in their way. Following that trail of thoughts, we can't be sure whether Sony's touch-enabled projector would ever see the light of day, but the concept we saw at IFA 2016 was surely drawing attention.
To reiterate, the Sony Xperia Projector is still at the conceptual stage of its development. Its design, specs and functionality might change in the future, if the gadget ever reaches a commercial launch. The unit that Sony had on display, however, was up and running, and people were allowed to try it first-hand. Size-wise, it was smaller than a toaster, but the image it projected was pretty large in size. Speaking of which, projection was done horizontally on a white table, but the unit can be flipped and placed against a wall for a vertical experience. To the naked eye, resolution and image quality were more than satisfactory.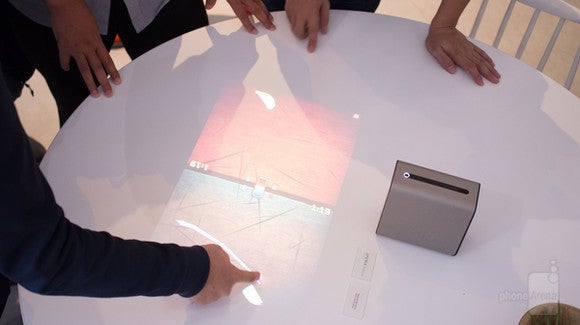 The Sony Xperia Projector could one day be your living room's entertainment hub
So, what can it do? Well, the Sony Xperia Projector is an Android-based device, meaning that it can run the same apps and games any Android device can. And yes, you interact with it by pressing directly onto the image being projected. We got to play a few games of Fruit Ninja against the kids that had gathered around, but the projector can be used for web browsing, watching video, checking email, all that usual stuff. Input responsiveness and accuracy weren't perfect. It was much better than we expected, but it is definitely something that could be improved if the Xperia Projector is ever going to be released. The device can recognize up to 10 fingers at a time, at least technically.
UPDATE:
Since a few of you guys asked, yes – when you press at a point, your finger casts a shadow over the image. From the looks of it, taps within that shadow would have a harder time registering.
To wrap things up, the Sony Xperia Projector could one day be marketed as a media hub and entertainment device that's equally fun when shared and when enjoyed in single-player mode. Still, it could use some polishing around the edges for us to give it the thumbs up.