Sony sends out invitations to Xperia event next week in India
3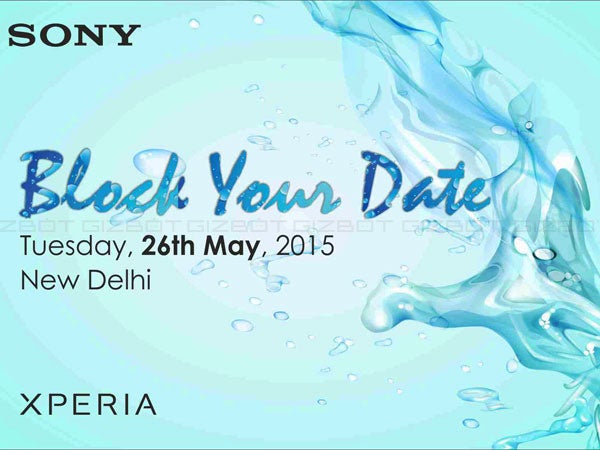 Sony has just sent out invitations to an Xperia press event on May 26th in New Delhi, India. Given the aquatic background to the invite, it seems likely that topics will include taking the mid-range Xperia M4 Aqua to the Indian market, but with a report suggesting that another smartphone will be announced as well, it's plausible that attendees could be graced with the presence of a previously-unseen handset. Whatever form this mysterious second device may take, though, we highly doubt that it'll be anything high-end.
The Xperia Z2, which arrived at last year's Mobile World Congress in Barcelona, ticked virtually all of the boxes expected of a high-end smartphone. At the time, it felt as though the Japanese company was really onto something, and that in a space dominated by Samsung, the PlayStation maker finally had an Android handset worth shouting about.
Since then, however, Sony hasn't really capitalized on its achievements. The rather hurried launch of the Z3 just a few months later brought the same display, camera, RAM and a
smaller
battery, but as 2015 arrived, tech fans were still braced for a Z2-esque flagship announcement that would throw down the gauntlet to Samsung et al.
Unfortunately, this has not yet happened. The Z4 was unveiled last month with an
even
smaller battery than the Z3, and the Snapdragon 810 octa-core processor that, when you consider the overheating controversy, doesn't seem anything to write home about. But the incremental nature of the specs bump doesn't leave as sour a taste as the fact that it's currently exclusive to Japan, and while it has been suggested that a new, high-end flagship handset will be released globally as the 'Xperia Z3+', it's hasn't been ascertained whether this is to be a rebranded Z4 or something different.
The confusion is not so much of an issue as the lack of a big handset to challenge the Samsung Galaxy S6, HTC One M9 or the LG G4. With every hour that passes sans an announcement, the company is losing potential customers to rivals. Since invitations to the New Delhi gathering seem aimed at local media, the wait for a major smartphone release from Sony will almost certainly continue thereafter, especially given that India an emerging market.
At some stage, one would hope that Sony plans to clear up some of the rumors, discrepancies and general angst surrounding its smartphone division. For now, though, the company is focusing on India, and as the missing flagship continues to elude us, consumers in India may at least have a couple of new devices to behold from next week.