Sony releases an infographic about the selfie, it's older than you think
15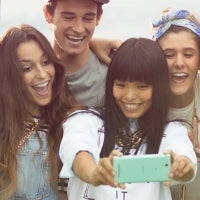 With today's
official announcement of the Sony Xperia C3
, Sony stepped up its game in the selfie department – the C3 really has the potential to produce really nice photos with its front snapper. Well, at least on paper, that is. As the selfie-taking capability is the highlight of the smartphone, Sony decided to educate the potential buyers of the Xperia C3 about the history of said self-taken photographs. Additionally, the tech giant has also thrown in some rather curious facts ans stats about the selfies for a good measure.
Back
when Oxford declared "selfie" the word of 2013
, we told you that one of the earliest selfies was taken by Grand Duchess Anastasia Nikolaevna of Russia, which snapped herself in the mirror in 1914. Well, Sony points out that another selfie predates her attempt by nearly a century – in a hipster-like fashion, Robert Cornelius used a daguerreotype photography process to snap his self-portrait in 1839. Way to go, Mr. Cornelius!
Without further ado, check out Sony's infographic below:
source:
Sony