Selfie - word of 2013, according to Oxford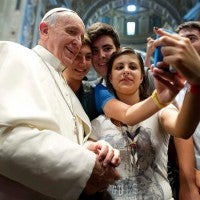 The term "selfie", which depicts the act of taking a self-portrait with a hand-held camera or smart phone, has been officially declared 'word of 2013.' Oxford Dictionaries online editor Richard Holden explained that not only has the usage of the word "selfie" increased by 17 000% in comparison with 2012, but it also captures the current trend in mainstream social media.
When one hears "selfie", they will most probably associate it with teenage girls taking photos with the aid of mirrors in bathrooms. Yet, lately selfies have somewhat evolved and gained viral fame, mainly because the hype around the selfie was boosted by various teenager pop stars and lots of famous public figures. The selfie got so popular that even Pope Francis unknowingly got involved, as he was captured alongside several teenagers and the resulting image quickly got the media's attention.
It is generally believed that the first use of the word "selfie" was in an Australian forum in 2002. Although the creator remains anonymous, the word he created attained great popularity in 2013 and is already commonly used in a lot of social networks.
Other competitors for 'word of 2013' were "twerking", "showrooming" and "bitcoin".