Sony puts focus on Europe and Japan presently, US and China in the future
36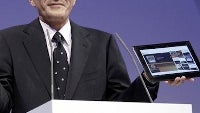 Sony has started to walk on the path to transformation as its handset unit is raking up profits under new chief executive Kaz Hirai, but the company is not rushing to conquer new markets - instead it is focusing on expanding and solidifying its presence in its strongholds. Those plans for Sony's rebound have a lot to do with growing smartphone sales and becoming the world's third largest smartphone maker, after Apple and Samsung.
However to do that the big focus of Sony, now world's seventh largest phone manufacturer, remains its home turf - Japan, plus its traditional stronghold Europe. These two markets account for over 60% of Sony's sales.
"Those two are the most important areas for us and we'll put substantial resources there. But not yet for the U.S. and China,"
Sony CEO Hirai said.
"It's not realistic to try to do everything at once. In the U.S. we'll start gradually."
In the United States, only T-Mobile, the nation's fourth largest carrier, offers Sony's smartphones.
Right now, Sony's strategy is grounded on three pillars, and mobile is one of them. The other two are its gaming business with the PlayStation game console and digital imaging.
source:
Reuters