Sony promoting Xperia smartphones with real-life Reckless Racing
9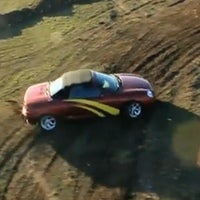 Ever wondered what a game of
Reckless Racing 2
would look like in real life? It looks like the guys at Sony have been thinking the exact same thing before coming up with this promotional stunt for its Xperia lineup. What they decided to do is to team up with Pixelbite, a guy that is really good at making full-size remote controlled cars, and an expert gamer to handle the driving.
And the result has been captured on video for your viewing pleasure. One of the game's levels has been recreated on a dirt track, and a sports car has been equipped with gadgets and gizmos that enable it to be controlled remotely. Oh, and do you know what they used as a controller? A
Sony Xperia S
and a
Sony Ericsson Xperia PLAY
smartphones.
But enough talking and spoiling the fun. The video of the real-life Reckless Racing 2 game has been embedded below, and we have also included a short clip that reveals how the cars used in the stunt have been modified.