Sony Xperia ion is coming to AT&T on June 24th for the killer price of $99.99
46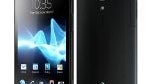 Do you remember the
Sony Xperia ion
folks? Well, some of you might've forgotten about it after the trove of recent top-shelf Android smartphones of late, like the HTC One X and Samsung Galaxy S III. In fact, it was way back in January when
we first heard word about it
and
actually seen the smartphone in the flesh
– though, the lack of news surrounding it has seemingly quieted its anticipation. And to tell you the truth, some were skeptical if the handset would indeed
come to fruition
.
Early last month in May, there were rumors that the handset would indeed be coming, as it was
speculated to launch sometime in June
. Thankfully folks, we're getting the official word this morning
regarding the release of the Sony Xperia ion for AT&T
. You might want to circle this down on your calendar, because the Xperia ion is slated to officially launch on AT&T starting on
June 24
! Just a tiny bit over 1 ½ weeks away, AT&T customers looking to try some other high-end Android smartphone should take notice of this device – mainly because there are some juicy things coming along with it.
If you have forgotten about it, this will surely jog your memory back. Specifically, the Sony Xperia ion stands out for featuring a 4.6" 720p HD Reality Display with Mobile BRAVIA Engine, 12-megapixel auto-focus camera with Exmor R for Mobile camera sensor, 1080p video recording, 1-megapixel 720p front-facing camera, HDMI out, DLNA, 1.5GHz dual-core processor, 16GB of internal storage, microSD card slot, and LTE connectivity.
On the software side, it's indeed going to be running
Gingerbread
out of the gate, but it's mentioned by Sony that a bunch of
Ice Cream Sandwich elements
have been brought over – like quick access to the camera from the lock screen. Moreover, its multimedia centric features cover a wide range of options that covers
Sony's Music Unlimited and Video Unlimited services
. Lastly, being a Sony device and all, it's branded as
PlayStation certified
– albeit, we'll have to wait until a later date to see a separate PlayStation store where certified games can be purchased.
Let's take a quick refresher folks! The Sony Xperia ion packs a snazzy 4.6" HD display, 4G LTE connectivity, dual-core processor, 12-megapixel snapper, HDMI out, and it's PlayStation certified. Knowing all of that, how much are you willing to pay? No doubt, everything sounds wonderful with the Sony Xperia ion, but beyond the specs and hardware, the best thing going for it is the
$99.99 on-contract price
point it'll be flaunting at launch! Yes people, it's going to cost you only $100 to pick up the beast.
Oh yeah, similar to
Samsung's TecTiles
, the Xperia ion is complemented by
SmartTags
, which are nothing more than customized NFC tags that can execute a host of functions. We managed to check it out, and from what we see, they're a lot more durable than the sticker look of Samsung's TecTiles. In fact, you can attach them to your key chain even. In terms of pricing, we're told a pack will be sold for $25 – though, there's no confirmation to its exact availability. So who's excited about this one?
source: AT&T