Sony Xperia ion hands-on
37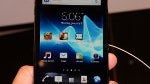 Call it a long time in the making, but
Sony is finally coming out of the woods
with a smartphone that's sure to buckle the knees of some of its competitors and keep them shaken up on wondering what just hit them. Even though we've been treated to some memorable Xperia devices from Sony Ericsson, it looks as though the partnership is over, as Sony decided to lay full claim on its line of smartphones. With the debut of the
Sony Xperia ion
, it marks the first time we're seeing a smartphone being built in-house – and no longer the result of the former joint venture.
Yet another device that's listed as being
PlayStation certified
, it'll naturally pique the interest of hardened gamers all around, but unlike other devices we've seen in the past, the accompanying hardware makes it drool worthy. Looking at the Sony Xperia ion, it surely employs many of the same design characteristics we find on other Xperia branded devices, though, its
brushed metallic exterior
surely sprinkles a sense of premium to this beauty. And despite its larger size, we like how the handset
comfortably
contours to our hand thanks to its curved back – with its weight adding that harmonious balance to its solid construction.
Staring back at us, its 4.6" HD Reality display with Mobile BRAVIA Engine is remarkably one of its standouts right from the start, thanks primarily to its 720p resolution (720 x 1280). Needless to say, it's pretty
detailed
looking from a cursory look, but its ability to produce
rich and vivid colors
also attracts our attention – plus, it helps that its brightness output and viewing angles are very nice too. Beyond that, there's still plenty to like about the Sony Xperia ion – like its 12-megapixel auto-focus camera with Exmor R sensor, VGA front-facing camera, 1080p video recording, 4G LTE connectivity, and its 1.5GHz dual-core Snapdragon processor.
With the latter, it's an astounding mark, since it's blessed as being the
first
Xperia smartphone to feature a dual-core CPU. Not surprisingly, it does offer a pretty
responsive
performance from our quick look at the platform, which is
Android 2.3 Gingerbread
for right now. When you look at the overall picture, this is undoubtedly shaping out to be a multimedia buff's dream phone! From playing games to shooting photos/videos, the Sony Xperia ion is looking to flex its muscles to scare away the competition. Now let's just hope that AT&T can somehow get this sooner than later – well, at the right price too!
*note that the sample unit we've tested here is branded as "Sony Ericsson". However, the final retail models will be only "SONY".