Samsung TecTiles aim to increase NFC usage by offering various personalized functions
9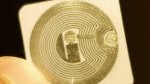 Say hello to
Samsung TecTiles people
, which is looking to replace QR codes – well, not really, but it's along the same premise. Actually, they're
programmable NFC tags
that Samsung is hoping to help increase the usage of NFC technology amongst handset owners with compatible devices.
We had the opportunity of checking out these Samsung TecTiles very recently, and they definitely have some specific case uses. At its core, they're sticker sized NFC tags that can be
customized
to do things such as launching apps, sending text messages, modify phone settings, share contact information, and much more. Simply, all one has to do is run the
free to download Samsung TecTiles app
and use your NFC-enabled smartphone to scan the TecTile, which then executes a specific function. Specifically, you can do the following:
Settings & Applications
Change phone settings (Bluetooth®, Wi-Fi, ringer/media volume, screen brightness, etc.)
Launch an application
Join a Wi-Fi Network
Show a message
Communication
Make a call
Send a text message
Start a Google Talk™ conversation
Share a contact or business card
Location & Web
Show an address on a map
Open a web page
Foursquare or Facebook check-in
Social
Automatic Facebook "Like"
Update Facebook status
Post a tweet or follow a contact on Twitter
Connect on LinkedIn®
Interestingly, the scope of functions are limited to those items listed – meaning, if it's not offered by the app, you can't do it. For example, you can use the Samsung TecTile to check into Foursquare or Facebook, but there's no way for it to add your location with Google+. However, we're told that additional functions will be added to Samsung TecTiles as it progresses.
Currently, you can download the Samsung TecTile app through Google Play, but for the actual TecTile NFC tags, they'll be available online and in-store at AT&T, Sprint, T-Mobile, and Verizon for
$14.99 for a pack of five
TecTiles once the Galaxy S III smartphones are officially launched. Call it another accessory revenue income, they have plenty of uses for personal and business. So if you're planning on picking up the Samsung Galaxy S III when it arrives officially, you might want to consider checking these out.
source:
Samsung